WHITE CONNECT CHARITIES
Why not lend a helping hand to two very deserving charities by making a one-off donation using your White Connect credit?
Lebone House
Lebone House, a holistic care centre for children infected/affected by the HIV/AIDS epidemic, opened in Bloemfontein, South Africa in May 2000. They believe that each child has a right to live within their own family, culture and community so they strive to provide a "home from home" setting that approximates that of the children's own family, when there is no family. The children receive love, acceptance, a safe living environment, clothing, food, an education and medical care from qualified staff and volunteers.

Please make a difference in the lives of these children by donating your White Connect credit now.
1. Dial your usual White Calling Card access number
2. Enter your PIN
3. Dial one of 3 numbers:
0330 001 0101 for a £1 donation
0330 001 0292 for a £2 donation
0330 001 0293 for a £5 donation
ABC Trust
White Connect also currently supports Action for Brazil's Children Trust, a UK-based charity that supports grass roots community projects to transform the lives of the most vulnerable children and young people in Brazil.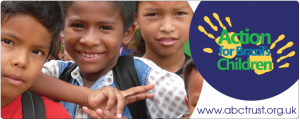 Learn more about by visiting www.abctrust.org.uk
It's easy to donate:
1. Dial your usual White Calling Card access number
2. Enter your PIN
3. Dial one of 3 numbers:
0330 001 0000 for a £1 donation
0330 001 0290 for a £2 donation
0330 001 0291 for a £5 donation